Beyond luxury
Dab Herb Makeup and Skin Care holds itself to a holistic approach to skin care and makeup where beauty and self care are inseparable from transparency and wellness.
Rooted in our belief that beauty and selfcare shouldn't come at the expense of wellness, Dab Herb Makeup spares no expense to offer practical, skin-recovering yet incredibly luxurious organic reparative makeup.
With Dab's original organic formula, your makeup IS your skin care.
And now, more than that, it's how you can make a difference.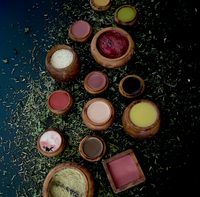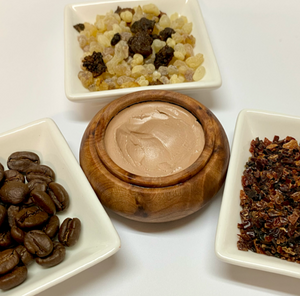 Carefully curated
The safety of the ingredients in cosmetics- especially skin care- will always be a priority at Dab.
Based on our philosophy of Nature to Nurture, we've meticulously handpicked and use only the best of the best in natural ingredients and pigments.
Sustainably sourced
Dab will always hold itself and its suppliers to high standards with ethical sourcing.
Food-grade. Certified organic. Wild-crafted. We can confidently say that close to 100% of our ingredients and materials are sustainably and ethically sourced.
read more on Dab in our about page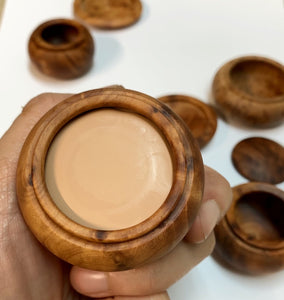 Lovingly handmade
Dab creates in micro-batches with your safety and product purity in mind.
Every piece of makeup and skincare that leaves our lab is fresh and carefully hand-crafted and hand-poured before being delivered straight to your doorstep.
I actually went to school to be an esthetician in 2012 and was certified by Dr. Hauschka as a holistic esthetician in Massachusetts... I can honestly say your makeup out-performs Dr. Hauschka's.

Rachel on Dab Herb Makeup
I just wanted to say your  products are unmatched. 

Your eyebrow tint is far better than 100 percent pure's, and the tinted moisturizer is... well, perfect. All in all, your product line is beautiful. I will be a customer for life.

Amy on the Petal Tinted Moisturizer (twin to the Plant Retinol Tinted Moisturizer) & Tinted Eyebrow Grower (twin to the Herb Eyebrow Grower)
(Dab Herb Makeup is) One of the best options for zero-waste makeup products, the LA-based vegan makeup store Dab Herb Makeup has almost everything you need to create a sustainable makeup bag.

"8 Brands Championing Sustainable and Ethical Beauty", somethingconscious.com
I just threw out my Marc Jacobs Highlighter (NEW) after I tried this one.

Alexa on the Floral Luminescents (twin to the Floral Illuminizers)
Crissy, the owner of the boutique, put a lot of care (and love!) into choosing her products' ingredients, meaning that all the products are highly concentrated with essential oils, butters and herbs. No sketchy additives or preservatives either!

Zero Waste Nest
Dab Herb Makeup is an underrated vegan brand that's a must-try for organic makeup enthusiasts!


Who Magazine
Better than Anastasia brow pomade

Erika on the Eyebrow Grower with Tint
Your products are making my skin come back to life. It's softer, clearer, and is getting a glow I have not seen in years. I'm 37 and I can now say I'm finally happy with the condition of my skin. I never thought I'd find such great products that fit me so well!

Lisa on DabHMS
LOOOOVE this product. My eyebrows haven't grown right since my friend plucked them out when we were kids 😂 I noticed some stray hairs after only one week and a lot more after using it nightly for a month!

Tori Page on the Revitalizing Balm (twin to the Recovery Balm)