Founded on the basis of Nature to Nurture, Dab Herb Makeup holds itself to a holistic approach to makeup where beauty & self care are inseparable from transparency, sustainability, & wellness.
"Don't put anything on your body that you wouldn't eat if you had to."
— Dr. Mercola, Philanthropist, & Natural Health Advocate
Most of us go to great efforts to ensure that what we put into our bodies is healthy, clean, and free from any radicals. Organic food has always been the standard for health and sustainability, so why should our makeup and skin care be any different?
Much like we can buy foods of very different quality, we may also use makeup and skin care of superior quality or those that are much less pure. Cosmetic grade ingredients do not require any specific testing or FDA approval. But unlike cosmetic grade, food-grade ingredients undergo a strict process to ensure that they are safe for human consumption and, best of all, rules out many of the harmful chemicals and potential irritants that cause harm to our skin and body.
Our food-grade oils , butters, and more ensure that the healing benefits of our ingredients remain in our makeup and skincare, resulting in safe and truly effective skin regeneration and rejuvenation.
.
Makeup + Skin Care + Healing
.
Here at Dab, we find beauty in simplicity. Use only what you need, how and when you need it.
Our food-grade highly effective and multitasking makeup, especially when used together, synergistically enhances your skin & your look. We've minimized your routine with our multi-tasking creations— feel good about what you wear & do good when you do!
All of our products are made by hand in micro-batches to reduce waste and to guarantee only the freshest skincare and makeup experience. Everything from our infusions to the finished product itself is handled under our creators' direct supervision.
Dab Herb Makeup is entirely plant-derived and designed to deliver lasting finish and quality. Delivered directly from our lab to your doorstep, be at ease and enjoy each life-altering jar made just for you.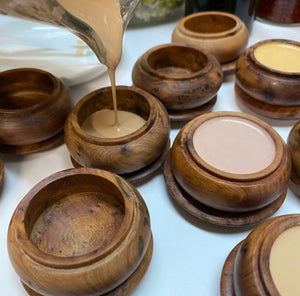 Entirely handcrafted
We take pride in being slow made; beginning from the creation of our wood jars to our finished product. No huge warehouse nor assembly lines here. It is in our little haven where magic begins.
Each creation is mixed, poured, and wrapped with the soulful nature of our hands and shipped from our lab directly to your doorstep with utmost care and consistency.
Quality is our top priority.
Ancient Formula
Tried & Tested, Trusted & Loved
People around the globe have been using our same botanical pigments, oils, and butters for thousands of years and science is now proving their phenomenal skin benefits. 
Our formulations are performed the ancient way by maceration and solarized infusion of pure plant materials. A hard and laborious task incomparable to how mainstream makeup is made nowadays. Especially with our highly concentrated and water-free creations, this process is exceptional and yields the highest degree of healing to the skin.
Free from any synthetic texturizers, you will experience the true texture and nature of natural butters through the seasons— evidence to the true purity of our craft.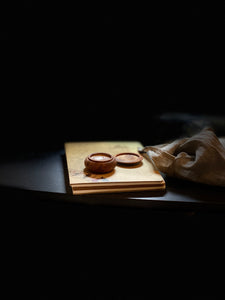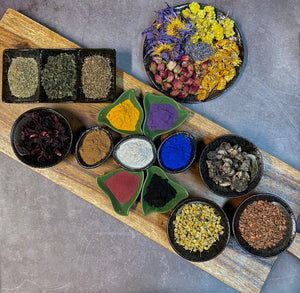 Carefully curated & Plant-fueled
Purists' dream makeup.
Experience our highly curated ingredients you can look and feel good about.
We have done the research for you and use only clinically studied ingredients that have proven their worth in terms of their efficacy and performance. Using strictly food-grade organic, USDA certified organic, or wild crafted, fair-trade, vegan, and cruelty free ingredients, our clinically studied ingredients have been proven to naturally balance skin hydration, increase cell regeneration, and encourage holistic healing.

With plants serving as our primary dyes and pigments, we craft with botanical butters, oils, healing herbs, flowers, roots, resin, leaves, and bark, and use hardly any minerals at all.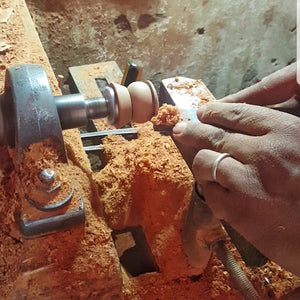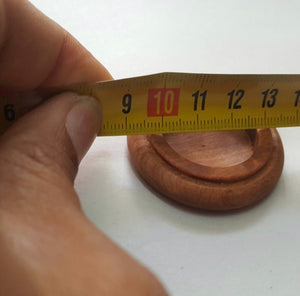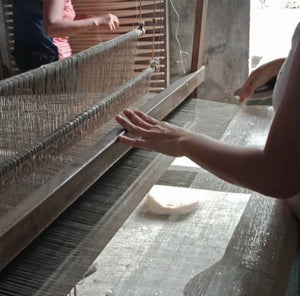 The Value of Sustainability
Sustainability is integral to every move that we make. From the sourcing of our biodegradable wooden jars to selection of suppliers and packaging and beyond.  We purchase by volume to reduce waste and try to source as many local and raw materials as possible to reduce the carbon footprint of any unnecessary outsourcing from abroad.
Our ingredients are certified organic, wild-harvested, vegan, fair-trade, cruelty free, and food-grade. We can confidently say that close to 100% of our ingredients and materials are sustainably and ethically sourced.
—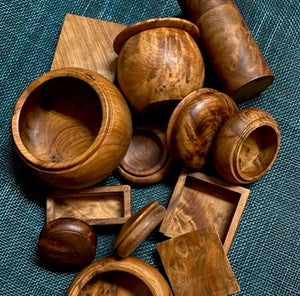 Completely plastic-free packaging
Made exclusively for us, our wooden jars were originally designed by us and made possible by our talented indigenous cooperative partners.
Each hand crafted cedar wood jar is made in small batches and is completely unique— every curve and corner matching only its partnered piece. We have gone through painstaking efforts to create a completely plastic-free line from our jars to our shipping materials which solely make use of biodegradable materials.
Have we mentioned they're refillable? Send your cleaned jars back and we will carefully refill them. For those with other plans in mind, our jars can be repurposed as 
Fair-trade and sustainable business
We can confidently say that close to 100% of our ingredients and materials are sustainably and ethically sourced. And best of all, absolutely everything from our infusions, the product, and the wooden crafts are hand-made by us and our partner co-ops.
Best of all, no trees are wasted in our efforts to build a sustainable makeup experience. Our partner carvers use scrap cedar wood from big projects— perfect for our beautiful gift-sized pieces, and most valuably, involve themselves in effective sustainable tree farming.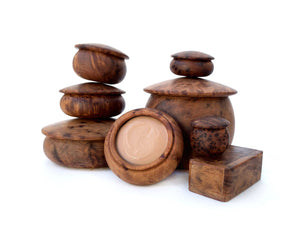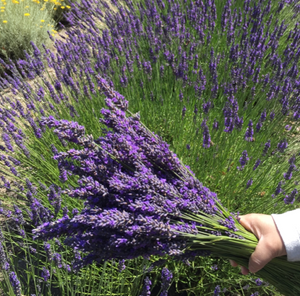 Supporting local farmers
Dab holds itself and its suppliers to high ethical standards. We try our very best to work with suppliers and local farmers in the USA that observe ethical practices. 
By supporting Dab, you'll be supporting all the small local businesses we do business with and especially local and regional USDA certified organic sustainable farmers.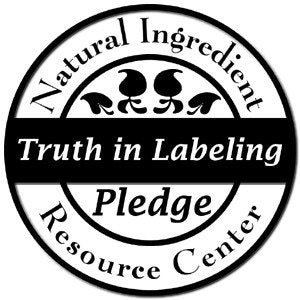 We are pledged to Truth in Labeling and use only the cleanest vegan and cruelty-free plant-based ingredients.